---
Chamber Database Management





Chamber dimension records are stored in two separate databases, the Active Chamber Records and the Archive Chamber Records.

Chamber drawings and dimension value edits are possible only from records stored in the Active Chamber Records database.

Individual records may be moved from one database to the other by first selecting either the Active Chamber Records or the Archive Chamber Records tabbed page to view the respective databases. A record may then be selected or searched.
After a record has been selected, click the "Move Record" button. The software will then copy the record to the alternate database and erase the selected record from the viewing database.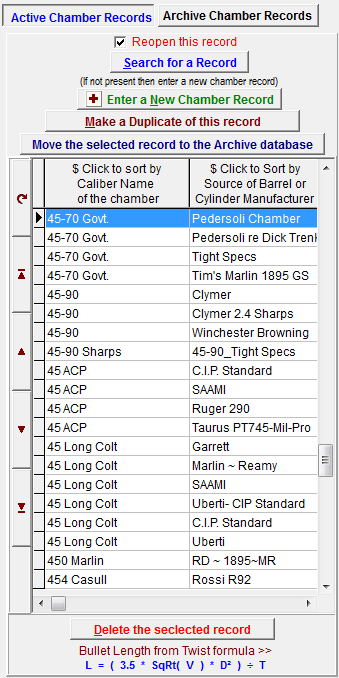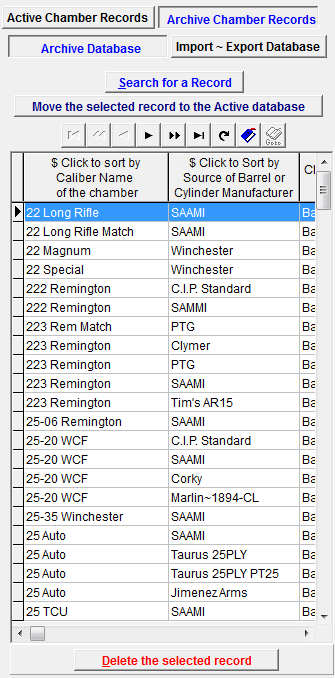 Future upgrades of the Cast Bullet Design ~ Ultimate software may be able to import and export Chamber Design Records. The import or export can be used to transfer records into a Transport Database. The Transport Database may then be emailed or downloaded into the Ultimate software Data directory.

If the Transport Database is present in the Data directory when the Ultimate software is opened, the Import ~ Export page will become visible. If no Transport Database is present, the Import~Export page will remain invisible.

The controls and database viewing grids may appear to be complicated to use. These controls are arranged so that the danger of accidentally deleting or corrupting the user's database is minimized.

If a Transport Database is available, the records in the Transport and Archive databases may be swapped back and forth and either individual records or batches of filtered records may then be moved from one database to the other.

Batch deleting of filtered records is only allowed when working with records in the Transport database.

The database will display any chamber records that are imported in the Transport database. These records may be individually moved to the Archive database or batch selections may be filtered and moved as a group to the Archive database.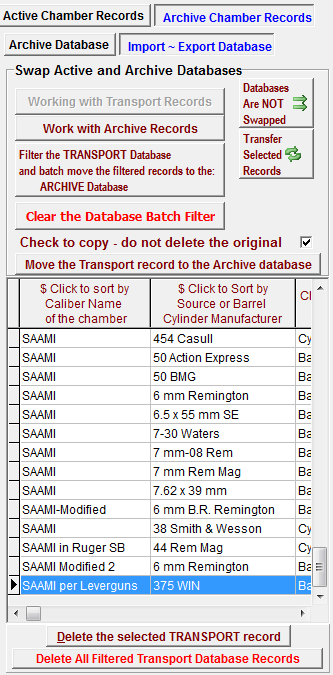 Use the filter to select a group of records to be moved to the Archive files.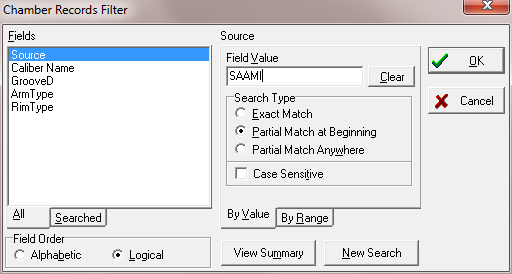 Click the "Transfer Selected Records" button and wait for the Confirmation notice.








To transfer records from the Archive to the Transport database, click the " Work with Archive Database" button